● Airport ● subway, light rail, railway station ● theaters, the Opera House ● exhibition hall, museum, gymnasium, library, archives of human activity in public places is more frequent, intense place, mainly in public facilities, transport hub, exhibition sites and places of entertainment sites, and more in the downtown area.The quality of fire safety measures will seriously affect people's lives.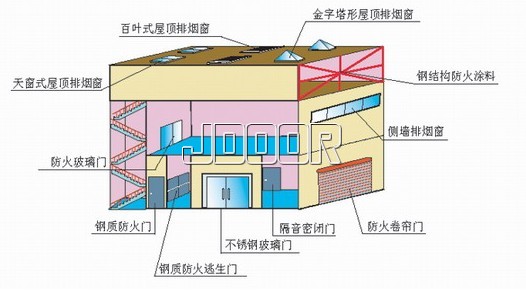 Public building products used in various types of windows and doors diagram
Use product categories
1, steel doors
Steel door, steel glass doors, steel shutters, steel fire doors, steel doors, steel fire doors, folding doors, acoustic doors, acoustic fire doors, sliding fire doors,
2, shutter
Vertical steel fire shutter, supine steel fire shutter, steel fire escape doors with shutter, mist-type steel fire shutter shutter wind pressure, common inorganic fire shutter, stainless steel insulation shutter, stainless steel fasting shutter, industrial sliding doors, aluminum shutter.
3, other
Wood fire doors, aluminum sliding doors, fixed glass partition fire, fire windows, stainless steel fire windows, steel shutters, fixed steel louvers move windows, partition, roof smoke window, window exhaust side, exhaust device system fire-resistant glass, steel structure fire.