Antenna control, simple comfort:
Wireless control wiring can be exempted from the trouble, do not have to destroy bright decor, casual, extremely convenient, simple to use doors and windows automatically stop, stop, next, the use of group control easy to operate, efficient and stylish.

Wired control, easy to operate:
Case of a single window control if only a single shutter windows, the pressure can be a simple button control, as long as each window assembly of a tubular motor system can be through the switch.Enforcement, stop, operate, you can also choose to switch on the outside of the wall surface.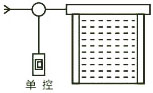 Second case, if there are multiple groups of control shutter window, you can choose a single control or group control motor system 4, a switch panel through the group controller can control four shutter motor system, also available from the group controller separate control of individual switches connecting individual windows, implementation, stop, under the instruction, after more than four windows serial number of group control device can operate.
Three cases, intelligent control of multi-storey building if you are a house or building, you can use intelligent control of multi-group or individual operation or fully automatic operation, according to sunlight, wind speed, rainfall or time directive, all the shutter automatically switch window.
Reed switch inside the installation guide linked to a central intelligent controller, when they go out at night or can be used as security guard, forced open the doors and windows are outsiders will automatically alarm when they go out to use a computer or mobile remote control for your windows and doors lighting or air conditioning.